Award of Merit Winning
GCH CH Kizmar 7 Deadly Sins at 5280 SH RATS TKN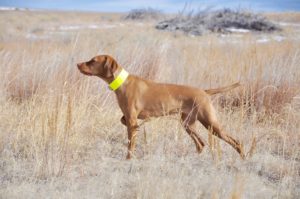 The time to add another Vizsla puppy to the family came in October of 2012.  This time around it was Marc's turn to pick where we got our puppy.  He decided he wanted either a Wick or an Ice baby…and it just so happens that both of those dogs are out of the dynamic breeding duo of Kathy Rust and Paul Hussa.  Kathy and Paul co-breed almost all their litters together under the Kizmar and Pagliacci names respectively.  Marc reached out to Paul and Kathy after a very bad case of puppyitis at the 2011 VCA National Event in Denver.  We told them what we wanted: hunting and agility in a nice show dog package, with tons of DRIVE.  They told us they would keep us in mind for anything "special" as we were not in a hurry.
And so we left it…and waited over a year!  Then, we started getting updates.  Kathy had a litter that she thought might produce our "perfect puppy."  Both parents excel at everything: conformation, rally, obedience, hunting, and agility.  It seemed too good to be true, so we crossed our fingers and tried not to get too excited.
The night we got the call that our Halo was in this litter, it seemed like destiny was on our side.  Jenny was getting sent to North Dakota for a site visit and our foster Brandi was approved for adoption the same day!  It was as if the Universe was trying to make it impossible for us to say no.  She was just meant to be ours!
Halo kicked off her show career in the Spring of 2013.  Entered in the 6-9 month puppy class over only 7 days, Halo earned either Winners Bitch or Reserve Winners each time she walked in the ring.  From this puppy class, she got halfway to her Championship with 8 points and a major out of the way.  She was handled to all of her puppy points by her Daddy Marc.  Halo didn't show over the summer, and came back out in August.  Marc showed her to a Best of Opposite win over specials to earn her second major.  At this point we realized Halo was something special and decided she was worthy of a handler to showcase her beautiful self 🙂  Sarah Wintrone took over showing Halo (who now had 11 points and 2 majors.)  Sarah finished her with a 2 point win at the Mile High Sporting Dog Fanciers Group Specialty and a third major.  At the tender age of 13 months, Halo was a new Champion!
Halo began her Grand Champion quest as a move up from the classes.  In her debut, she picked up a Select win for a 3 point major and a BEST OF BREED win for a 5 point major!  Within a month, Halo had taken two more Best of Breeds (over the #1 Vizsla bitch) and a few Selects to finish her Grand Championship in only 7 consecutive days!  Phew!   Halo exhibited in a few shows before Nationals in early 2014.  After only 3 weekends she was able to claim a spot in the Top 20 and had won a Specialty Award of Merit.  While conformation isn't our favorite AKC game, having a dog that almost always won made it much more fun!
In 2014, Halo hit the field to try and prep for her Junior Hunter title.  Our schedules were really busy, but we were able to get Halo out a couple times…enough to safely break her to the starter pistol and make sure she loved this game.  Not surprisingly, she LOVED her work in the field, and we thought she may be ready.  In early April, we entered her in a double-double hoping she may be able to pick up several legs in the weekend.  Being Halo, she exceeded all our expectations and went 4 for 4 — our little perfectionist!  Marc was so proud to handle her to her field title, and she LOVES working for her Daddy.  In the Spring of 2015, Marc took Halo to a hunt test to see how she would do at the Senior level–sure enough, she turned in a perfect performance that weekend.  The conditions were pretty miserable, and she was the only Senior Dog to get a qualifying legs both days!  Unfortunately, it was at the end of the hunting test season and we were busy that Fall.  But in the Spring of 2016, we made it to another hunting test, where Halo & Marc again turned in a perfect performance, earning two more legs and her Senior Hunter title!  Just as she did with her JH, Halo earned her SH with 4 consecutive passes — there is just nothing this girl doesn't blow the doors off of!
In 2016, we purchased a vacation home in Vail and discovered Halo's biggest passion — enjoying all that the high country has to offer!  Our place is a next door to a little lake where she happily swims as long as you'll let her.  We always joke that her Fargo is showing; the Dakota Girl will swim even when there is snow on the ground.  If it's not an ice rink, she goes in!  Across from the lake is National Forest and she absolutely LOVES getting her hikes in every weekend.  If it was up to her we would move up there full time!
In 2018, Halo took on Motherhood.  We bred her to Kai, a dog out of Karma's Dad, Tok.  She had three beautiful and healthy puppies who we love getting to watch grow up.  Seeing Halo as a mom was wonderful.  She was a super attentive mother and kept her whelping box spotless.  We feel a bit guilty that we only bred her once, because she so clearly LOVES being a Mom!  As our foundation bitch, we couldn't be more happy with her loving nature as a mother and of course, she should pass on some beautiful genes.  Time will tell, but we think her "Baby Halos" will be the start of quite a legacy.
In 2020, everything shut down for the Co-ViD 19 outbreak, including almost all AKC events.  The AKC decided to make Trick Dog testing a virtual event.  So while we were stuck at home, we decided to put Halo's trick abilities to the test.  She picked up her Trick Dog Novice and had a great time doing it!  Then when stuff still didn't open up for AKC, we took Halo to a new venue…Barn Hunt!  Halo LOVED it!  Memorial Day weekend she earned her RATN, 4th of July weekend brought her RATO title, and at a trial in mid-September she picked up her Senior title, RATS!  Safe to say, what started as a quarantine game has become something Halo really loves!