Well this was a crazy weekend! We are in the hunt for smaller shows to get Cheeky some ring time before Vizsla Nationals in April. We instantly thought of Garden City where Baby Halo got her very first point! It's always a small show and great for a good introduction to the show ring. And a road trip is always more fun with friends, right? So Jenny texted Hilary (who owns Karma's nephew Tioga) and asked if she wanted to come along on a little Kansas adventure. Hilary gave an enthusiastic yes! So we entered our dogs and waited for this weekend to roll around.
A couple weeks ago, a Vizsla friend from Georgia posted on a group page that she wanted to build a major in Garden City. There goes our small show weekend, lol! But we were excited at the prospect of having even more friends around. We rolled into town in time to grab a quick dinner, check into the Townplace Suites (yay for a pet-friendly Marriott property,) and get to bed. Or at least we tried! Cheeky and Tioga were SO SO SO excited they did not want to step wrestling! We finally convinced each to stay in their own bed and sleep.
Friday was a big, big day! Cheeky went Reserve to the Major, and Tioga went Winners Dog AND Best of Winners for a 3 point major! It was a great kick-off to the day and meant Tioga automatically won Best Puppy too. So we stuck around for the Puppy Sporting Group, and Tioga and Hilary took a Group 2! It was a huge win that earned them a big rosette and a set of the fabled "My dog won at the Garden" glasses! We headed straight to dinner with almost everyone from the Vizsla ring and had a great time at the Garden City Steakhouse. The manager ended up waiting on our table, and she was so fun and comped our appetizers!
Saturday, Tioga went Reserve and then we headed to the Garden City dog park. Typically, we only stop at dog parks if they are empty, and it was totally empty today! Tioga and Cheeky had an absolute blast running around in the snow and burning off some energy. It was a super chilly, snowy day, so we hit up a local Vietnamese place for some Pho and then headed back to watch groups. After the show, we again met up with the Vizsla crew for an early dinner since a storm was rolling in. An actual real-life Winter Storm! Back at the hotel by 7:00, we poured a couple glasses of wine and spent the evening watching chick flicks from the comfort of our cozy hotel room.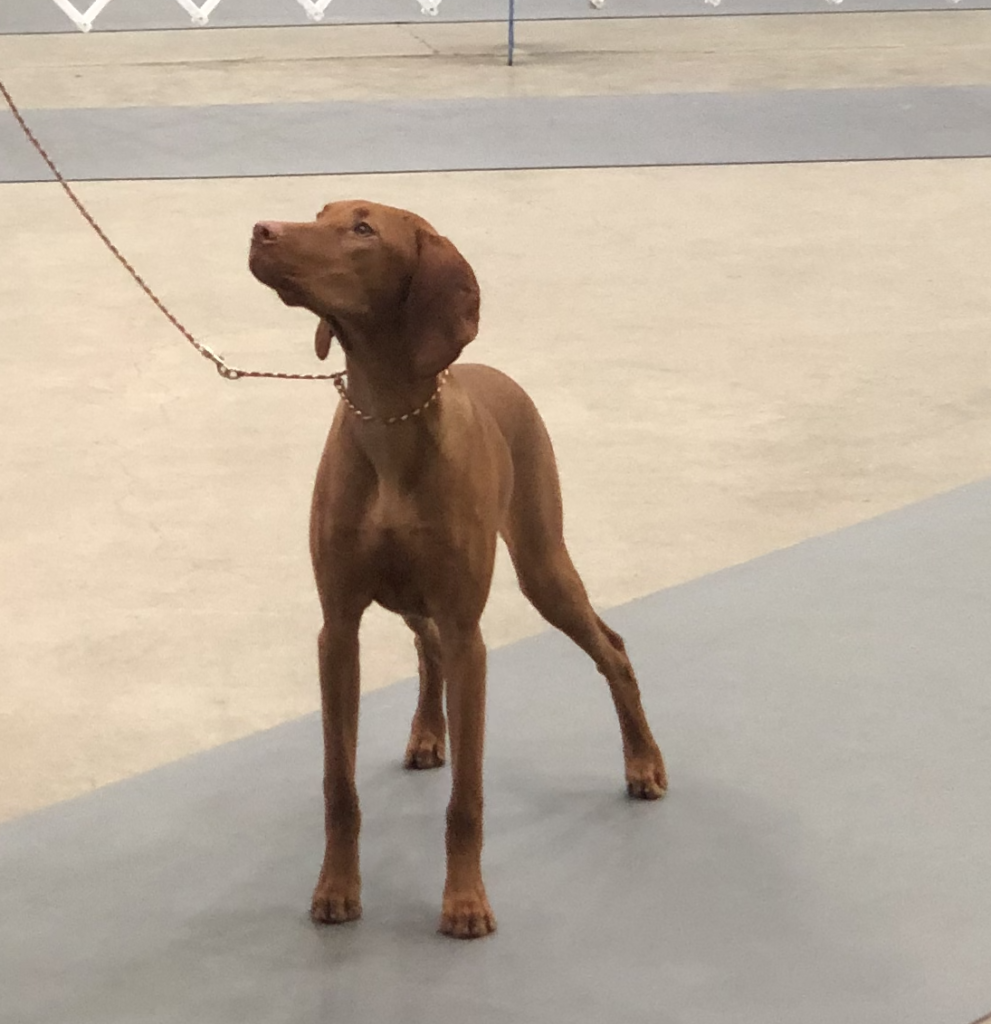 The Winter storm was pretty legit with a negative 20 degree windchill! We packed the car up so fast! Then it was over to the show where Cheeky & Tioga both walked with Reserve honors. After big hugs all around, we hopped in the car and prepared for the drive home. Luckily, the roads were decent until the last hour of the trip. Slow and steady won the race and we arrived safely back home in Colorado. It was a great weekend with a ton of fun at the Vizsla ring! We had fun dinners out as a group, cheered each other's wins, and enjoyed the company.