Today was just an all around AMAZING day with Cheeky. We were so excited that the Colorado Springs Kennel Club brought back their conformation show to C Springs after moving it to Pueblo for a few years.
We started off with an early ring time. Cheeky and Jenny headed into the ring for the 9-12 month puppy class with two other puppy bitches who both had professional handlers on them. But, in spite of the pros on the puppies, Jenny & Cheeky walked out of the ring with the blue ribbon! They headed back in for Winners and got the nod from Judge Sheila Polk for Winners Bitch! This win gave Cheeky two more points towards her Championship! They headed back in the ring for Best of Breed and were pulled out for Best of Winners! The Best of Winners nod also meant Cheeky won Best of Breed Puppy! Finally, the ring steward pointed out that there were 3 owner handlers still in the running for Best of Breed, Owner Handler. Everyone else exited the ring, and Jenny & Cheeky took another spin with the other two teams. Again, they got the nod! As the judge handed the ribbon for Best Owner Handler over, she also gave us a trophy card. Imagine our excitement with the trophy was the custom Vizsla Colorado chair in the photo above! A big, HUGE, thank you to the Duvall family for sponsoring the awesome prize! We LOVE it!!
All those breed wins meant we'd have to come back later in the day for two groups — the Puppy Sporting Group and the Owner Handler Sporting Group. Luckily, the show site was the Penrose Event Center — a location we are familiar with from agility, so we knew all the good walking trails behind the facility! Vizslas are pretty wash 'n wear, so we were able to let Cheeky get in some swimming and running and then let her nap away the day between treks outside.
First up, was the Owner Handler group. The judge for this group was Sid Marx — the fabulous puppy judge we had in Scottsbluff! Once again, Sid was GREAT with Cheeky. He didn't use her in his placements, but having another positive experience in the large group ring was a big win for us! Finally, we had the Puppy Sporting Group, judged by Doug Johnson. Doug actually handled our good friends, Bob and Carol's, dog, Chief back in the day. We've always heard great things about him but have never had the opportunity to meet him. WOW! We were so impressed! He was SO great with the puppies; even reminded us at the beginning that he was a breeder too, and just wanted these pups to have a good experience in the ring, so we shouldn't get frustrated if the puppies weren't behaving perfectly. His little pep talk really put Jenny at ease. Imagine the pure elation when Mr. Johnson pointed right at Cheeky and said, "Vizsla — 1!" That is a high that will take a long time to come down from!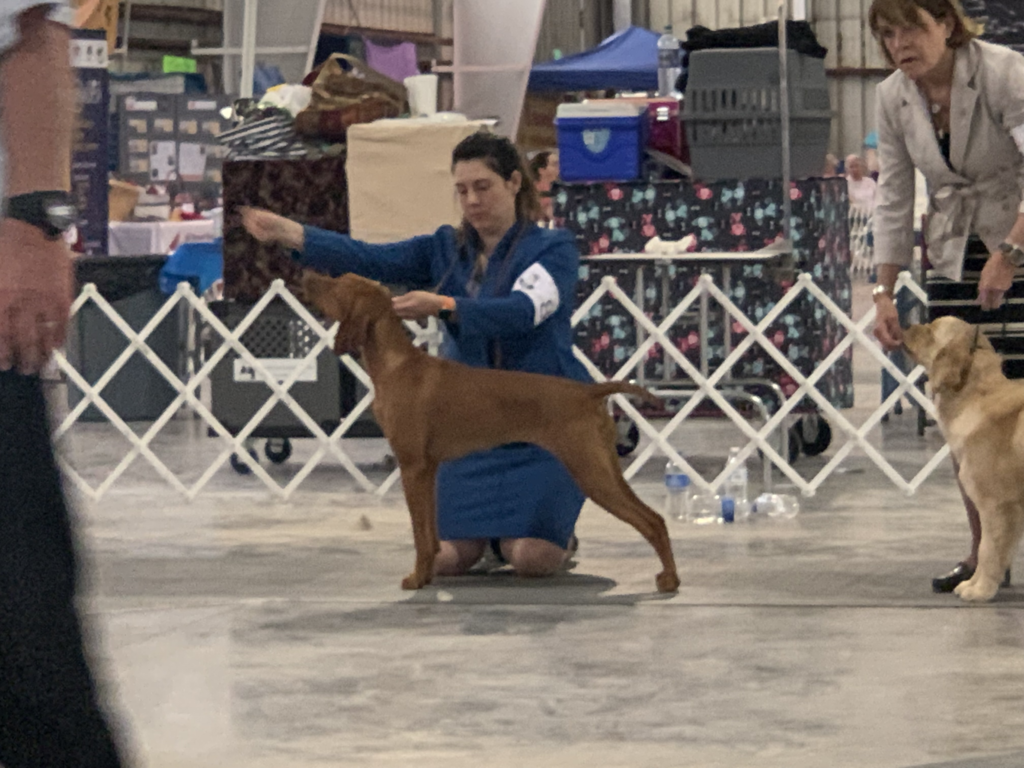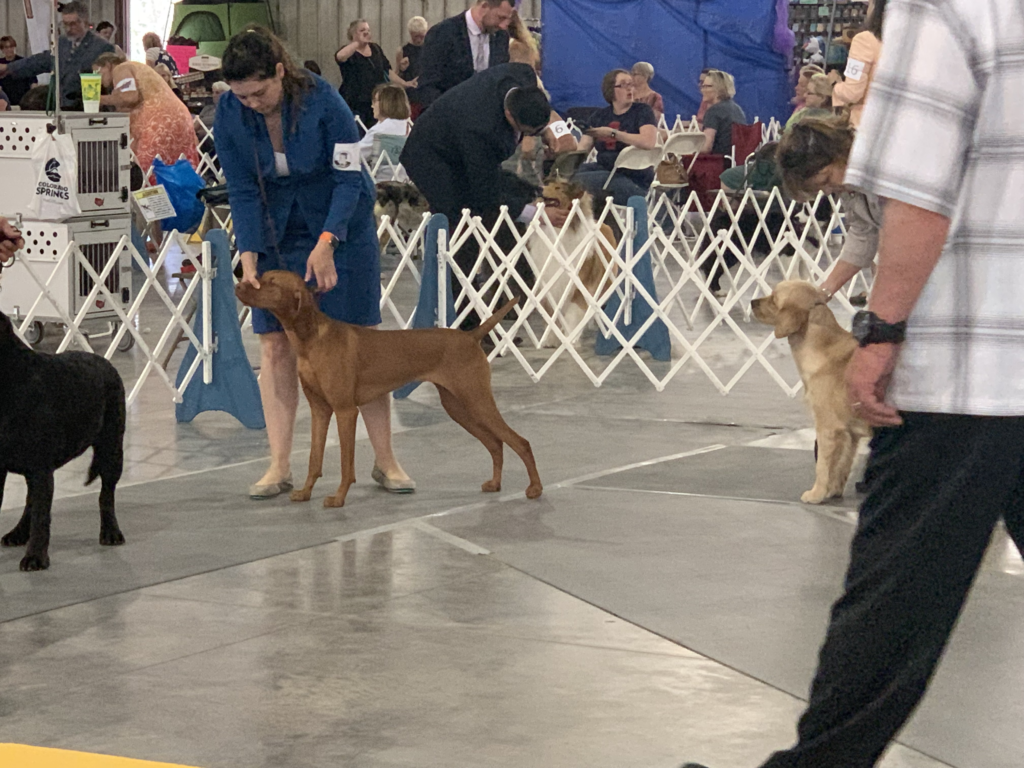 We didn't do anything in Puppy Best in Show, but that's totally ok. Today was a day we will not soon forget, and if we were only spending one day at the show this weekend, we were SO glad it was today! Winning is always fun, but the best part of today was having so much support from our friends! When we won Winners Bitch, the congratulations and compliments from our fellow competitors were so appreciated and so kind! Lindsay, Mary, Tatum, and Tanya even stuck around for our group appearances and were big cheerleaders and helped us take pictures. Looking forward to the next show weekend and the camaraderie that comes with it!